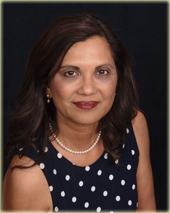 Welcome to Laser Esthetica! Whether you're looking to get rid of unwanted hair, replace lost hair, decrease the effects of sun damage, or simply pamper yourself with a rejuvenating facial, be assured that here you will discover the utmost care and comfort, and of course results.
Established over a decade ago, Nalini G. Prasad, M.D. is a visionary physician with an eye and a passion for medical aesthetics. She established Laser Esthetica in 2001 – the first skin and laser clinic in Roseville, CA. Since then she has remained on the forefront of medical technologies in this field. We offer state-of-the-art lasers including those for fractional resurfacing, tattoo removal, skin tone and color improvement, hair removal and much more.
During the years, Dr. Prasad has remained on the cutting edge of medical aesthetics, keeping up with the newest treatments in the field and has personally worked with hundreds of patients and has used a range of non-surgical procedures to enhance their natural beauty and secondarily, their self-confidence. In working with her patients, Dr. Prasad has performed thousands of procedures whether it is injections or laser treatments. If experience matters to you then we believe you will be comforted to know that your treatments are delivered by a seasoned professional who devotes all of her time to aesthetic medicine.
We encourage you to come in for a consultation for these treatments and when you decide to go forward we will be right beside you in this journey toward looking as beautiful as you feel!