Dr. Nalini Prasad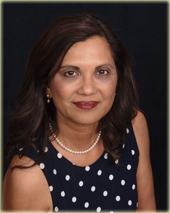 Dr. Nalini G. Prasad graduated summa cum laude from the University of Cincinnati, where she also earned her medical degree. She completed her residency at the UC Davis Medical Center and worked in family practice for a few years before dedicating her career to cosmetic medicine. Since establishing Laser Esthetica, Dr. Prasad has been recognized as an expert in the field, and has been asked to serve as a speaker and trainer for other physicians entering the field. She has been featured in the news on numerous occasions to describe and explain the treatments provided at Laser Esthetica.
Being one of the first doctors to establish a comprehensive laser and esthetic medical practice has given Dr. Prasad a greater and long term perspective of the field. The expertise and knowledge that comes from years of experience has allowed her to remain on the cutting edge of rapidly evolving technologies. For this reason, the scope of services and multiple state of the art lasers that she can provide are due to her long term dedication to esthetic medicine. All consultations and medical treatments are performed by Dr. Prasad herself.
Dr. Prasad's medical training fused with her care and concern for patients is what makes Laser Esthetica a safe and comfortable setting to achieve the results you want. The doctor always says that her favorite thing about working is the relationship she has with her patients, and she wouldn't trade those for the world.
EXPERIENCE THE DISTINCTIVE EXPERTISE AT THE LEADING CENTER IN COMPREHENSIVE LASER & AESTHETIC SERVICES,
YOUR CHOICE FOR AESTHETIC SERVICES EXCELLENCE.

CONTACT US ONLINE, OR CALL (916)783-0580,
FOR YOUR PERSONAL CONSULTATION.